As a company desiring only to expand and flourish, you know how important it is to locate very qualified employees and to keep those you find and hire. It's no good at all, wasting tons of time and energy, to have your company be a "revolving door." You don't want to be saying, "Oh, yes. They come and they go."
To hire the best and most qualified staff is, of course, the first step.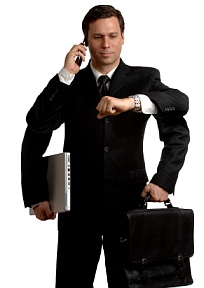 "You'll find that willing staff seek to improve results within the company...."
Willing Employees Make All the Difference
When hiring personnel, all their qualifications must be up-to-par and you certainly know what the skills and abilities are that are required. But did you know that isn't all there is to it? The person has to have more than great attributes on paper.
Watch those you interview for having a high willingness to work for your company. See that they have a purpose well aligned with what the job consists of.
The top-most quality applicant for your open position will be someone who is willing! Their willingness to take the job, to do the work, to achieve the things you want to achieve will assure they will stay and become a loyal part of the team. They must have the interest and desire in solving problems. They must be motivated.
You'll find that willing staff seek to improve results within the company. They want to go above and beyond to get efficiency and effectiveness out the roof. They aren't just there to do "the essential" and get by. They will work to advance the company's mission and consistently perform their duties well. They are adding a lot of positive energy to your team!
When you find that applicant who not only has a great resume but also shows a high willingness to take on the work, and to assist the company in becoming all it can be, hire them. These types of people can be hard to find. If you don't grab them now, they might be gone when you suddenly change your mind a little bit later.
Ensure Good Strategies and Systems are in Place
You may find that you have already hired some great employees that are eager and willing to get the work done and back up the company vision. But they still leave. Why is this? Why do they still end up quitting when in the beginning they were showing an exceptional willingness to be a complete team member?
If you don't have the right strategies in place within the company, don't have systems that work in making your company a calm and efficient place to work, your employees will eventually decide they can find something better.
If confusion within the company is rampant, if flow lines are corrupted, if conflicting orders are flying left and right, even the most willing of staff will leave. It's important you liaise with management to get these things rectified.
You could have a situation where somebody is employed in an executive capacity and given certain responsibilities, yet when they attempt to execute those responsibilities they are blocked by the owner or another more senior executive. In such a case you will very likely lose that valuable employee. If anyone, executive or otherwise, was hired to perform a specific duty or take a particular responsibility but is not being allowed to do those actions, that staff member will be leaving through that revolving door.
If you as an HR have an open door, you will be able to care for the staff you've hired. The employees must have a safe person to talk to, someone who they can come to with any difficulties, and someone who will hear their complaints. This assists you in finding out what problems exist within the company, and you can take steps to repair.
Using a good management technology is vital in creating stability. If you have manuals or policies in print stating the rules and regulations, and giving the rights of the employees, the company must also adhere to these. If they are violated, you'll have difficulties right away. Management must have any violations brought to their attention.
You want to hire and retain your staff. Hire the willing and ensure proper working systems are in place and adhered to!
You'll be a success!
When you need qualified applicants quickly - call us !
We understand the needs of small business. You want qualified applicants to interview for your open positions and know that you are not going to waste any time in the process. You also want the assurance that the applicants we send to you have been tested with our proprietary testing methods and that they already are familiar with your business and really want to work for you.

Our fees are the most competitive in the industry and we provide you with applicants very quickly.

Call us today!