Closing Out 2009 with Tidings of Good Cheer!
There were various topics that I thought about covering for this particular newsletter. I could go into bonuses and rewarding your staff for a job well done. That is certainly something that should be done at least once a year. It lets your people know that they are appreciated.
I thought about maybe doing an article about a party, but again that circles back to appreciation.
"I hope that 2010 is a year that makes those dreams attainable...."
One article that was halfway written before it was scrapped was all about starting the New Year off with a bang, and swelling the ranks with qualified staff. For those companies who are ready to get back into the hiring ring, then we can help you find that exact person you need. We have many extremely qualified individuals looking for a "home".
And yet one other article was all about issues that can drag down staff morale. That was set aside for a later time.
The Holiday Season is, in a business sense, about closing out the year. We have a brand-new, fresh start right around the corner awaiting us. It's a bright future, for sure.
But it's also, on a more personal level, about appreciation. It's about valuing people, and it's admiring the good things that there are in life. It's about re-connecting with old friends, and forgiving.
So to that end, I thought I would forego the usual tips of expansion, and staffing, and all that in lieu of a personal note to you.
I wish you the very brightest and best Holiday Season. Whether you are celebrating Christmas, Hanukah, Kwanza, or the Islamic New Year, it's a time of year when we are reminded that we are all striving toward success. However you define that for you, be it happiness, love, wealth, spiritual enlightenment, business achievements, goals, life milestones, I hope that 2010 is a year that makes those dreams attainable.
I look forward to helping you in 2010!
Included in this newsletter is a recipe from my grandmother's card box. It's for a delicious Rum Cake! (Don't worry, the alcohol cooks off!)
Here goes:
1 Box Duncan Hines Butter Gold Cake Mix
1 Box Instant Vanilla pudding Mix
½ Cup White Rum
½ Cup Vegetable Oil
½ Cup Water
1 Cup Chopped Walnuts
4 Eggs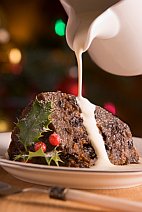 (Not a picture of this rum cake)
Preheat oven to 300°.
Mix all the dry ingredients together (except nuts). Blend in the Rum, water, oil, and eggs. Grease and flour a tube pan. Sprinkle ½ cup of nuts in the bottom of the pan, then pour the batter into the pan. Sprinkle the remaining nuts onto the top of the batter mixture. Place in oven and bake for 55-60 minutes. Test it with a toothpick. Whip together the glaze while the cake is baking.
GLAZE:
1 Cup Sugar
¼ Cup White Rum
¼ Cup Warm Water
Mix these together in a sauce pan over med heat. Bring to boil and let simmer for 3 minutes. Pour ½ of the glaze on the cake (while it is still in the cooking pan). Let it cool for 30 minutes. Turn the cake out of the pan, it should slide out fairly easily.
Pour the rest of the glaze on the bottom of the cake and let it cool. Then turn it right side up and serve plain or with a scoop of vanilla ice cream and enjoy!
Have a very Happy Holiday Season!
We make hiring effortless and simple. No more wasting time and money on bad hiring practices. Just tell us what you want and we'll get exactly that for you, effortlessly.

Call us today!