Wishing all of our friends and associates a Happy Prosperous New Year and to hell with the recession. This article may help you on the way.
Your company's profit and expansion depend to a large degree on how well your employees operate as a team. Have you really taken a good look at this? It's true. Certainly you've experienced problems within your business when an employee becomes disgruntled, or starts to demand more compensation, perhaps even threatening to leave.
An employee's attitude towards their job and towards the company as a whole makes a large difference in how everyone pulls together as a team. And the team is what makes the company produce effectively.
So do your employees have the right attitude? You can ask yourself this question, but first you really should ask, "What is the right attitude?" How do they approach their job? How SHOULD they approach their job?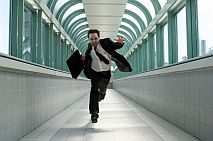 "...They should have "duty" as a motivation."
Of course, one of the greatest characteristics you can have in an employee is their willingness to do the job they were hired to do, and to excel at it. They should have a personal conviction about their position. They should have "duty" as a motivation.
When your staff for the most part fit this description in their attitude towards their job, the work environment is a pleasant place. Everyone is working towards the same goals and purposes. It becomes more of a team effort and thus more effective.
But, you say, all your employees have this frame of mind! Or do they? This is what you have to take a minute and evaluate.
Do you have some that just seem to be putting in time? They clock in, do what they are assigned to do, sometimes well, sometimes with careless errors. They clock out on the dot at quitting time, only to appear the next morning to go through the whole routine again. Kind of robot-like.
Aren't They All Willing People? — They Asked to be Hired
You would think that each person on your staff is willing. After all, they applied for the job in the first place. They must have been willing to do what was required of them to keep the company afloat. They joined up knowing the rules and benefits, the guidelines and purpose. They must have some sort of personal conviction to apply for that specific position.
However, just because they applied for the job at all doesn't mean they are playing that "willingness game." They may, in actuality, have dropped to the bare minimum of putting in the hours and doing just the basic part of what is required of them in order to pull a paycheck.
Perhaps they were willing to start with, having dreams of working with the leaders in expanding the business. Their duty motivation seemed from the heart. Their personal conviction was strong. But as time went on, their willingness slowly dwindled. They became slightly critical. They got a little distanced from the group. Whereas this has its own source, it definitely affected their willingness overall.
Their reach towards the job seemed to go from "willing to assist the company in its expansion" or "willing to do what it takes to make a name for themselves within the company" to "willing to put in an 8-hour day" or "willing to cover the least amount of this job to keep it and still get paid."
Employers Who Are Hiring Need to Watch for Attitude
When you interview a potential employee, you can watch for "attitude" and determine their overall conviction. You can see if you will be getting someone who will stand by you and the company, or if you will be getting a person who will do the bare minimum to get paid.
When someone begins to ask about what they are going to get from working for you, beware. They are after personal gain. Perhaps most of their questions have to do with the benefits they will be getting, or they want to know how soon raises will be in the offing. These types won't have your expansion and success in mind.
And if that employee is just watching out for "number one," you'll find him later just watching the clock. Your team is going to be in trouble.
Be careful when you are promoting a job opening too! If you promote in such a way as to attract applicants by the benefits he or she is likely to get, that's the kind of person you will have applying — someone more interested in what they can glean from the company, not what they can do for you.
Good Employees Are Out There
Maybe you think it sounds difficult to find good employees as those described above — those with personal conviction, those with duty as a prime motivator, those who are willing to work hard to help your company grow. You need to change your view on that RIGHT NOW!
They are most certainly out there. Sometimes it takes a little bit to find them, weed out the lackadaisical workers, those lazy ones who just want a buck. But good employees are out there and looking for work. Looking for you!
This may be a good time to get an employment agency to come to your aid. For example, The People Link has numerous connections that enable us to find good people rapidly. We already have a long list of people looking for positions. And we can do all the weeding for you.
Call us to get the Qualified Staff you need NOW
We understand the needs of small business. You want qualified applicants to interview for your open positions and know that you are not going to waste any time in the process. You also want the assurance that the applicants we send to you have been tested with our proprietary testing methods and that they already are familiar with your business and really want to work for you.

Our fees are the most competitive in the industry and we provide you with applicants very quickly.

Call us today!