According to recent polls, the top issue concerning employees and employers alike is the questionable forecast of our future. You can certainly spend this time wondering where the economy is going and hoping you and your friends and family will survive this tremendous economic correction, or you can use this time to see the smaller picture and create ways to help your colleagues, employer, employees, friends, family members, and even yourself.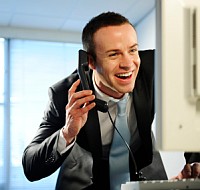 "...the fastest and most effective way to beat the economic blues is to get yourself as productive as you can, and as quickly as possible"
The economy is in flux, of that there is no question. Jobs are potentially at risk and unemployment numbers are rising; which is also true as companies are swallowed by our molasses-like economy. However, despite reports that the country is sinking and the sky is falling there are companies who are expanding.
While our economy readjusts and corrects itself from the intense over-spending and horrific management, we are left with the task of looking after each other on a smaller scale and helping each other out in ways that maybe wouldn't have been necessary a few years back. These ways are ever so much more important now though. Obviously, the fastest and most effective way to beat the economic blues is to get yourself as productive as you can, and as quickly as possible. If you are already a productive person, then find ways to help others in your immediate area to become more effective at producing quickly.
What can you do?
Here are few things you can do to immediately increase your productivity: Hold a garage sale on a Saturday and clear out all the junk in the office. Aside from making a few bucks, you'll find that a clean space is definitely a more functional space. Offer your staff some production bonuses and play some games that will motivate them in to increasing their level of productivity.
Carry that enthusiasm home with you and see if you can't get your spouse and your family members more engaged at getting their chores and homework and other things done.
Enthusiasm is contagious, if enough people are infected it is bound to affect our economy.
Surveys show that 70% of people polled have their attention on the flagging economy. Another survey reports that 57% of people feel that addressing and correcting the job market and the economy needs to be a top priority to the politicians in Washington.
And yet, changing little things in and around your environment can actually add up to tremendous savings, both at home and for the company where you work. You may also find that your outlook and perspective changes for the better.
Electricity is a hidden cost
Surprisingly, by following these few simple tricks you can find quite a bit of extra money: Leaving your computer on overnight (without putting it into sleep or hibernate mode) costs you $42.34 per year, per computer. If you work for a company that has 25 computers that adds up to 1058.50 per year in wasted electricity. That's a good chunk of money better spent on the company Holiday party.
Electricity is a hidden cost in many companies and homes that can actually be money back in your pocket if you learn how to manage it well. The average monthly cost for a household in California in 2008 was 83.60. For a small business, the average monthly cost was $739.84.
For the purpose of example, let's assume that the bathroom in your office uses 1/10 of the entire electricity consumption of the office space. The light in the bathroom stays on Monday through Friday for 10 hours each day. That's 36 dollars a week wasted on unused electricity!
The average cost of a simple motion sensor light switch is 14.99, so it will potentially pay for itself within the first week. At the end of the year, that weekly savings will add up to $1872 extra dollars!
So assuming that all the employees in the company turned off their computers at night, and the bathroom light was only in use when necessary, you'd find you may have an additional 2930.50 per year to put toward other things… Like that company party to celebrate the successes of the year!
Time Management and Organization
Organization is one of the key factors of speedy production, and ultimately of a staff with a high morale. People feel good when they get stuff done, that's a known fact. There is a certain sense of satisfaction in a hard day's work and a job well done. So what about those days when you may feel like you've gotten nothing done? Chances are you've had a lot of useless, time-wasting activities clutter up your day.
Time management is an important factor no matter if you are a worker bee, or a stay-at-home mom, it's important to know where your time is being spent. A real-life example is that of a work-at-home mom. Her pay for her data-entry job was a pay-per-item gig. In trying to figure out why she wasn't making as much money as she could make, her husband discovered that she was spending on average 1 1/2 hours handling the administration side of her job and another 4 1/2 hours making phone calls for her husband, for the house, for the family, the animals, cars, and all the other wifely duties that a stay-at-home mom will do. After re-organizing her filing and administration system and creating a more structured schedule for her to follow, her time was much better controlled and she tripled her income almost instantly. That is the magic of time management.
So while you may not be a work-at-home mom, I am sure that you can find ways you can economize on your time. Look around your workspace.
Do you see papers that need to be shredded or filed?
Is your inbox overflowing?
Do you spend more than a few seconds looking for emails, memos, project sheets?
If you answered YES to any of these questions, then it's time to get organized. Like our work-at-home mom, you probably can't afford to spend much extra time searching your drawers for a missing memo. Plus you may find that when your space is in order the amount of stuff you get done could double, triple, or multiply in some other way.
So despite the volatility of today's economy, there are still some simple things you can do to economize on time and money and, hopefully, earn yourself a little peace of mind!
Call us to get the Qualified Staff you need NOW
If you have had any bad hiring experiences in your company and at this point have lost all faith in mankind and completely given up on the idea that there is somebody out there whose sole purpose in life is not the destruction of your property, we need to talk. Bluntly, there is hope that you can have somebody on staff that will help you and your business. It can be done.

This is our secret weapon that reveals who you should hire. Find out how you can use this to your benefit.

Call us today! Phone number and Contact Info.