As employers, we all know that employees are one of our greatest assets. We also know that it takes some work to make our staff happy and retain them. Employees never like to feel confused about their duties or about the organization. They do much better when they know exactly what is expected of them and how to accomplish it.
Employee turnover can end up costing a business quite a lot in both money and time. It takes time to train a team member, and to invest that time in someone only to have him or her leave shortly afterwards is frustrating to all concerned.
Here are 10 tips on how to get a new employee started on their new job, thus having a foundation to build on, keeping them happy and productive, with no confusions or misunderstandings as to their duties and functions.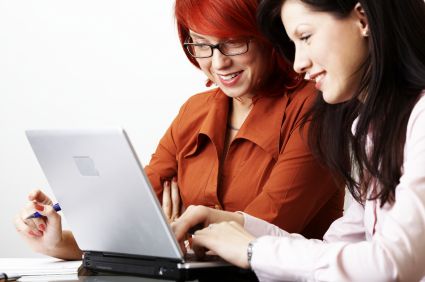 "Monitor his work for a few days, checking up on him every few hours or so to ensure he is doing fine and has no questions."
Employment agreement signed.
Get the employee agreement you currently use, or work contract, read and signed by your employee at the very start. File it right away so it won't get misplaced. Having legally worded agreements is a very important part of your business and sets the standards with your employee. If you need to get some contracts compiled for your company, you can contact the Law Offices of Timothy Bowles, in Pasadena, California. He comes highly recommended for employment law advice. His telephone number is (626) 583-6600 and his website is www.tbowleslaw.com.
Pay arrangement.
Get a written agreement regarding pay arrangement filled out and signed. The new employee should know exactly what they will be making and how they will be paid.
Work Schedule.
Establish and agree upon a definite work schedule. It is important that your new staff member knows when he will be expected to be at work, when he will be reachable (if traveling) and how many hours a week he is expected to put in.
Workspace.
Assign the new employee a workspace, desk and any equipment or office supplies he will need to operate on his new job. Show him where he can get new supplies. If there are any "rules" regarding how many supplies he can take or the like, be sure to inform him. Ensure everything is in working order. (If it isn't, get it repaired right away.)
Communications system.
Make sure your communications system is set up and the employee knows how to use it. This includes any message boards, staff memos, in and out basket systems, etc
Introduce to staff.
Get the new employee introduced to his immediate senior and to all other staff. Perhaps he won't remember all the names, but he will be more aware of who works with him and what they do in relation to his job.
Company orientation.
Give your new staff member an orientation tour of your company. Ensure he knows the company's overall purpose and product or service. Show how all the other posts within the organization dovetail to make the product take form and go out the door. Show him how his job fits in and what his product and purpose are.
Job description.
Have a complete job description written up including every aspect of his job and functions. Make sure he reads and understands it. You can even quiz him on it. Go over the purpose of the company again and his job in relation to it.
Staff training.
If you have staff training available, get him on a personal schedule to take part in the training. Get him started on a program to enhance his ability in performing his functions.
Monitor his work.
Monitor his work for a few days, checking up on him every few hours or so to ensure he is doing fine and has no questions. Answer any questions he has right away, and get him steered onto the right path for accomplishing his job well.
You'll find if you take these actions to start, you will be setting this person up for success, and setting yourself up for success as well!
More tips to come, so stay tuned.
Hire An Ideal Employee - Guaranteed!
Extroverted, causative and responsible staff are an enormous asset to a company, not just for what they directly produce, but also for the effect they have on their co-workers. That's why it makes sense to ensure you get the best prospects to interview and when you hire The People Link, you will.

We interview and evaluate each prospect so you know who it is sitting in front of you in the interview. Our 90% success rate leads the industry. Find out how easy and cost-effective it is to get high quality staff fast.

Contact Mya now at The People Link and see how easy and cost effective it is to find quality staff today!