When you are hiring a new employee, a good question to ask yourself is: "What problem am I trying to solve by hiring this employee?" And it's definitely a good question. You are, after all, trying to fill a need within your organization. The need is likely one that, once fulfilled, will contribute and align to the overall success of your business.
In our experience, employers at times seem in a sort of uncertainty about who to hire. Should they get a manager-type for that department? Or do they really need a salesperson? Is a receptionist the right position, or is it an office manager or executive assistant?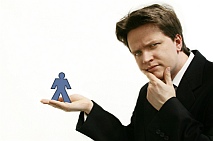 "...employers at times seem in a sort of uncertainty about who to hire"
Four Things You Should Do When Hiring
There are four vital elements to do to ensure you are hiring to the right position. You are going to take a step back on the process of simply looking for someone to come work for you. The actions you need to take are:
Working out what production problems you are trying to solve within the organization
Name the position that will solve these problems
Break down the position into exact duties that will need to be done
Find the person who has the abilities to do these things
So What ARE You Trying to Solve?
Let's back all the way up and take a look at the real problem you're trying to solve by hiring someone. It isn't just a position you're trying to fill with a "body" there that will be delegated responsibilities… and hopefully make your company's profits soar. It's much more than that.
Let's actually name what it is you want to accomplish first, and where you are lacking in the attainment of it. For instance, you want the office to be bustling and busy with lots of sales being made. Well, right now sales are being made. You have a sales person who does that. Although you would like to increase sales by having another salesperson, the confusion within the office environment wouldn't be conducive anyway to adding more people.
You actually need to back up and truly "name" what you want to accomplish overall, then you can move forward to the next step.
What Could Be the Title of the Position?
This is only important because, unless you have a name for this job, it's going to be hard to communicate anything in a job posting. You can probably name the position anything you want — within reason. At least it should be a name that is recognizable. And naming it accurately can also help you fit it in the appropriate place within your organizational structure. Then you'll be able to work out who the direct superior would be and so on.
Break it Down
Now you need to work out every single duty and function this position will be required to do on a daily basis. You can add as many as you like, but they all should be related to each other in some way. And they must accomplish the overall production problem you are trying to resolve.
Perhaps you decide that you need someone who can manage the office as his or her primary responsibility. But what do you mean by manage? Are they just going to go around and tell people to quit acting confused?
As you list out every function of the job, you should write it down so you have a write-up of what will be expected of the employee in this new job.
Who Can Do It?
So now you know exactly what job needs to be done (and done right) for the whole production line to move forward. And you know what duties that person will do. So now you know the qualifications needed to fill the position, and can hire accordingly.
Simple, eh?
First you must name the overall goal you are going for in the company, work out what position title it could be called, and then list the duties (everything!) that this position must accomplish on a daily basis. Once this is done, you will know exactly what skills the person will need to fulfill that post's requirements. And you can hire the best!
Saves everyone a lot of time and ultimately a lot of money!
When you need qualified applicants quickly - call us !
We understand the needs of small business. You want qualified applicants to interview for your open positions and know that you are not going to waste any time in the process. You also want the assurance that the applicants we send to you have been tested with our proprietary testing methods and that they already are familiar with your business and really want to work for you.

Our fees are the most competitive in the industry and we provide you with applicants very quickly.

Call us today!