5 Things You Need to Know Before Hiring a Recruitment Agency
In the rough and tumble times of today, any and every employer must be extra smart in how they spend their time and money. Efficiency is vital. Effectiveness is a must.
In hiring employees, you have to be wise in all actions taken. Otherwise, you'll be spending time that could be used for something more profitable. You could be spending dollars that would be of much more benefit if used in other ways.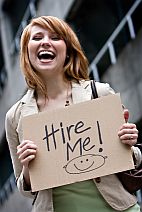 "...Your new staff must be part of the team."
You Can Increase Profits Even in These Troubled Times
Any turnover at all nowadays can have drastic consequences on your company. A vital person leaves and you are high and dry until you find someone else. Profit is cut and expenses grow. A recruitment agency can be the answer to your problems.
But before you hire a recruitment agency, you must know five very important things. These things will save you even more money; more than you can save just by blindly hiring an agency to assist you with your hiring needs.
Your Recruitment Agency Must:
1. Increase Your Cost Effectiveness
Cost effectiveness is important in these days of rising prices. It's something to consider when you have a high turnover rate, because training new employees costs time and money. You can't be putting out lots of effort on a staff member only to have them leave. Your new staff must be part of the team and have the purpose to help you flourish and prosper. If you can get quality staff, your cost effectiveness increases. A caring recruitment agency will ensure you only get the best-qualified applicants.
2. Reduce the Time You Spend on Hiring
Extensive time spent in interviewing prospects takes you away from important functions, such as ensuring your other personnel are doing their jobs correctly, working on business plans to help you expand and putting energy into your production. You need quality applicants to see immediately, hiring the first one if he is deemed satisfactory. That first interviewee must be of high quality, hirable and trustworthy. Your optimum recruitment agency does the sorting for you to find the very best to send on an immediate basis.
3. Help You Avoid Inhibiting Arbitraries on Hiring
You know how those fixed ideas can enter into a recruiter's head, affecting the number and quality of those he or she hires. Someone decides (not management) that there are some restrictions in hiring, and this changes the parameters, and affects the time involved. It also affects the effectiveness of hiring. For instance, the arbitrary enters that you can only hire those who don't have a college degree, because "they always leave shortly for better paying positions." This can prevent you from getting perfectly qualified staff that really do WANT to work for you and feel this position is something that aligns with their goals and purposes. There are an endless number of arbitraries that can enter in. A good recruitment agency doesn't allow this to happen. They find you exactly the type of person you need. The goal being the "Perfect Match"!
4. Get the Most Trustworthy and Stable Applicants
It's not a breeze to scrutinize each applicant to determine his or her true personality. You have to know how to delve into their history, read their resumes, check their references. Knowing how to take off the social veneer and dig deep is a specialty of only a few really professional recruitment agencies. They know how to sort through the applicants, finding what seems to be the best, yet digging deeper to find out if you will really get what you will be paying for. They search out those applying to see if they have lingering doubts that could have them out the door only days or weeks after hiring.
5. Give the Advantage of Using Proprietary Testing
When you find a recruitment agency that uses testing to find out the skills and personality of your applicant, you have something worth a lot to your business. Hold onto them! They will weed out those who are ineffective, uncaring or even destructive. The People Link goes a step further with a proprietary testing that gives an excellent service in selecting only the best applicants for the position you are looking to fill.
The above information is to assist you in selecting a terrific recruitment agency that can minimize your time and trouble in finding the ideal employee. The People Link is proud to say that we have provided the above services for 1000ís happy clients who come back to us again and again for their hiring needs over the last 13 years.
In fact, in addition to our Professional Recruitment service we also provide a service to help you screen the applicants you get from your own advertising so that you will be able to make a better hiring choice. This may be more economically feasible for you. Call or e-mail for details.
Call us to get the Qualified Staff you need NOW
If you have had any bad hiring experiences in your company and at this point have lost all faith in mankind and completely given up on the idea that there is somebody out there whose sole purpose in life is not the destruction of your property, we need to talk. Bluntly, there is hope that you can have somebody on staff that will help you and your business. It can be done.

There is a secret weapon that we possess that you most likely don't know anything about. Find out how we can use this to your benefit.

Call us today!